Featured song: Holy Fire, by Morgan Cryan, from the 1984 album Keep No Secrets.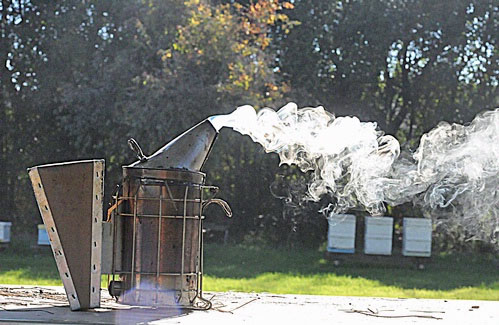 As amateur bee-keepers, my wife and I have learned many of the skills needed to manage bees. One of these tricks is the use of smoke to calm the bees, and keep them under control when it is necessary to work on the hives. To use this smoke, you need to know how to create the right kind of fire, and how to make it keep burning.
There are many methods of getting a smoker going. You have to start by igniting paper, then adding twigs, then progressively larger sticks, until you have hot coals. To this, you add a material that will create lots of smoke to keep the bees in line.
What fails to keep this fire going? Several things can happen. If you don't put the right kind of fuel in the smoker, it will burn quickly, and the fire will go out too fast. If you pump the smoker too much, it also burns hotter and faster. Don't pump it enough, and the lack of oxygen smothers the fledgling fire. Adding too much of the material that creates the smoke may also smother the fire. Starting the fire and then ignoring it will also cause the fire the die too soon.
The work of God in my life can be likened to starting and maintaining a fire. The flame that ignites the fire comes from the Holy Spirit. However, I need to continue to come back to the Spirit to keep that flame hot – a lack of prayer and praise in my life restricts His work, and the flames can get low. Neglecting church attendance (corporate worship with other believers) can also have a detrimental effect on my fire. Both of those issues are like taking a coal out of a fire and setting it aside, by itself. It will be hot for a while, but it will burn low and it may go out.
Maintaining a fire also can involve adding fuel to it. In beekeeping we add pine needles or compressed cotton to the fire, to produce the desired amount of smoke. In the Christian life, the source of the added fuel can be study of the Bible, or spending time in prayer, or even putting my faith to work by serving others.
The smoker, the fuel, the pine needles, the twigs, and the flames are all individual components that are needed to get the desired result in beekeeping. Leave out one of these parts, and the result will not be what is needed. The same applies to the work of God in my life; I need to make use of all of these components of maintaining my own fire, in order to keep the fire of the Holy Spirit hot!
Prayer is a passion, incense upon the flame
Worship is battle no enemy can tame
Lord, your breath is a righteous fire
A zeal we need and we desire
Your Holy Spirit we require

Holy, holy fire, holy jealous light
Holy coals of cleansing, purest holy white
Holy, holy flame, a holy God's desire
Wholly purify me, all-consuming holy fire

Praise is His Spirit, a sacrifice to thee
Consuming the wicked, all of the wicked in me
Answer us with atoning fire
Without the flame we can't acquire
A heart fulfilling Your desire

Holy, holy fire, holy jealous light
Holy coals of cleansing, purest holy white
Holy, holy flame, a holy God's desire
Wholly purify me, all-consuming holy fire

There are fires for warming
And fires to comfort man
In Your comfort I've been sleeping
GIve me burning zeal again!

Holy, holy fire, holy jealous light
Holy coals of cleansing, purest holy white
Holy, holy flame, a holy God's desire
Wholly purify me, all-consuming holy fire