Featured song: Free The Fire In Me by The Imperials, from the 1988 album Free The Fire.
A couple of posts before this, I talked about holy fire, that passion for God. It has the unique properties of being ignited and sustained by God Himself, and yet its flames spread out to give glory back to God as well as giving warmth to others around me.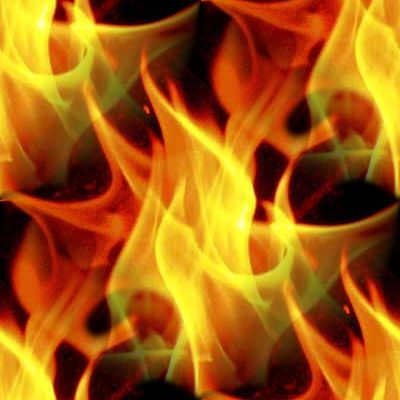 It takes passion to make it through life. You need it to help give you the desire to get out if bed in the morning and go to work or school or whatever it is that is your function in life. The passion can be for something that you love to do (and you are indeed blessed if you are one of those who get paid to do what you love to do). It could be a passion about caring for your family.
But even your passion can burn you out unless something is continually stoking the fire. That "something" is a relationship with God through Jesus. Daily making the connection with God renews your mind, restores your energy, reinvigorates your your passion. And making the Lord of Heaven your passion is a double blessing!
As in the message in today's song, that desire for the fire of God in your life is what I wish for you!
Free the fire in me
Let it be
Ignited in power
Let me be
Ablaze in this hour
Like a torch that's passed for eternity

So free the fire in me
Let it show
Like glowing devotion
Let it go
Like flames hot in motion
For the world set free is my burning desire
So free the fire in me

A man's true temperature is tested by his wealth
Love only flickers if it's just to warm himself
My treasure lies in You and fans the zeal of all I do
It's rising and growing
It can't be shared with just a few

Everybody needs the light
In my heart it's always burning bright
So let the heat climb ever higher
And free the fire in me

Free the fire in me
Let it be
Ignited in power
Let me be
Ablaze in this hour
Like a torch that's passed for eternity

So free the fire in me
Let it show
Like glowing devotion
Let it go
Like flames hot in motion
For the world set free is my burning desire
So free the fire in me

All by myself I don't know where I could begin
I'm just a spark the quenches
Like a candle kindles in the wind

Not by my ability
Only by His Spirit can it be
I'll do all that you require
And free the fire in me

Oh, free the fire in me
Let it be
Ignited in power
Let me be
Ablaze in this hour
Like a torch that's passed for eternity
Free the fire

For the world set free is my burning desire
So free the fire
I said, free the fire (free the fire)
I said, free the fire (free the fire)
I said, free the fire,
Free the fire in me
Yeah, let it be, Ignited in power
Let me be ablaze in this hour
Like a torch that's passed for eternity
Free the fire

Yeah, I wanna let it show
Oh, I wanna let it go
Just let it go
For the world set free is burning desire
So free the fire,
Free the fire in me
Free the fire
Free the fire
Free the fire in me
| | |
| --- | --- |
| | |