You've been hiking for hours; your water is running short, and what water you have is warm and not at all very appealing. You are getting very dry, and weak, and don't feel like you can go much further.
But up ahead is a cool green clearing in the forest, and the sound of a babbling brook! You enter the clearing and there you see a well with water gushing up through the center. It runs down into a pool, and out to form a small stream off to one side. And the water! It's cool, clean,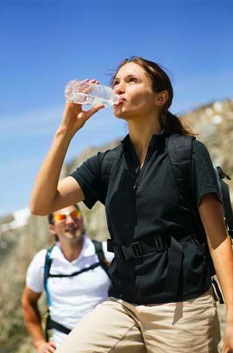 and more delicious than anything you've had for a long, long time.
You sit down and soak your aching feet in the cool waters of the pool. All the weariness that had been building up just drops off. You feel your energy returning, and a renewed ability to complete your task.
Water is one of the most critical needs of life. The only thing more needful is the air we breathe. It would be difficult, but a person can go for quite a while without food, but only three to five days without water. And when you are dry, it can take only a few swallows of water to make a significant difference in how you feel.
In John 4, Jesus had an encounter with a woman at a well. He asked her for a drink of water next to a well in the town he was visiting. During their conversation, he offered her a drink of living water, water that would not only quench her thirst, but would itself become a well within her (John 4:13-14).
Dallas Holm, Tim Sheppard, and Phil Johnson teamed up in 1981 and released an album (called Holm, Sheppard & Johnson) of music that included the song, Drawin' From The Well. The harmonization on this song is so mellow and good. When it hit the playlist I was listening through today, I did something I never do. I replayed it over and over and over. The peace it imparted to me was like the refreshment of that water. I hope you enjoy it also!

Drawin' from the well
Drawin' from the well
Drawin' from the well
That will never run dry
Drinkin' Living Water
Provided by my Father
Drawin' from the well
That will never run dry 

There's a well where I'm livin'
Eternal life it's givin'
It washes all the pain and care away

I'm standin' in the flow
It's runnin' right through my soul
And the source will last forever and a day

And I'm drawin' from the well
Drawin' from the well
Drawin' from the well
That will never run dry
Drinkin' Living Water
Provided by my Father
Drawin' from the well
That will never run dry

Oh, it fills my life
WIth assurance that I'll never thirst again
And oh, the days and nights
Are full of joy that comes from knowing Him

And I'm drawin' from the well
Drawin' from the well
Drawin' from the well
That will never run dry
Drinkin' Living Water
Provided by my Father
Drawin' from the well
That will never run dry