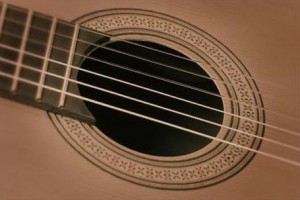 Way back in the early years of the Jesus movement there was this group from southern California named Love Song. They were a rock group before they became Christians, but they were all searching for the truth, the meaning of life. In their search, they came across this church called Calvary Chapel in Costa Mesa, where the pastor, Chuck Smith, had been successfully reaching to the hippie culture with the message of salvation. Within a period of several weeks, each of the members of Love Song responded to this message and were born again. They turned their musical skills to writing and performing songs for their Lord, but kept the original name of their group.
After several years of singing and touring, the group decided to disband. One of the members, Chuck Girard, still had a desire to write and sing new songs, and so worked on releasing an album of solo music. He had originally wanted to name the album Rock 'N' Roll Preacher, but this presented a problem. In the 1970s and 1980s, it was most common for Christian music to be sold through Bible bookstores across the country; typical record stores just were not interested in stocking that kind of music. But the kind of music that was done by many Jesus music artists was performed in the style that they had grown up with, namely rock and roll, and for many who were in the church, this was still viewed with suspicion and sometimes outright hostility.
The label that would be releasing Chuck's first album urged him to not put that title on the album. They told him that in many cases a Bible bookstore would refuse to put an album with "rock and roll" in the title on their shelves, and secondly there would be many who would refuse to purchase an album with those words in the title. So, he relented and released the album under his own name, Chuck Girard. The result was that it did fairly well in the Christian marketplace, despite the fact that the first track on the album had that awful term in the title.
Some of the songs I like from Jesus music appeal to me because they bring me closer to the heart of God; sometimes it is because it speaks to where I am or where I have been in my life. And sometimes it's just because it's a fun song that makes me smile and simply sing along. And that is the case with the song, Rock 'N' Roll Preacher by Chuck Girard, by his self-titled 1975 album. Enjoy!

When I was young,
My life was rock 'n' roll music
Just diggin' the wonderful sound
I'd get home from school
And when I'd finished my lessons
I'd listen to music
'Til the sun came around

I'd sit by the hour
And pound my old piano
Pick out the chords to the songs
I'd heard on the air
And on American Bandstand
Just learnin' the words
And then a-singin' along

But who'd ever thought
I'd be a rock 'n' roll preacher
'Stead of just singin' the blues
Who'd ever thought
I'd be a rock 'n' roll preacher
Singin' my song
So you can hear the good news

Now that I'm free
My heart is filled with the gladness
That comes when a life has been changed
The song I now sing
Has a different ring
The lyrics have meaning,
but the tune is the same

But I want you to know
I still love rock 'n' roll music
But now I have something to say
I'll sing you my song
And maybe you'll sing along
And we'll make us a noise
They'll hear in Heavenly places

Who'd ever thought
I'd be a rock 'n' roll preacher
'Stead of just singin' the blues
Who'd ever thought
I'd be a rock 'n' roll preacher
Singing my song
So you can hear the good news

©1974 Dunamis Music
This album can be purchased from Chuck Girard's    

web site here.