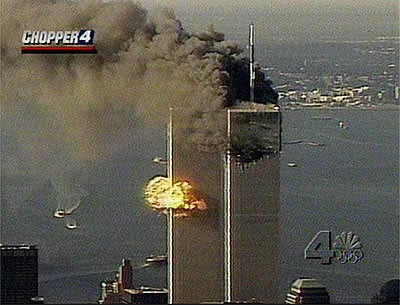 Featured song: Met In The Stairwell, written by Stacey Randall, read by Bob Holiday, from late 2001.
Eight years ago today, our world was changed profoundly. By the actions of some very lost men with a very great hatred, many lives were taken in a tragedy that affects us still today.
As an adult, I had not previously experienced a disaster that affected me in a way that caused me to simply stop and stare at the news on the television, not believing what I was seeing, praying that somehow it was not as bad as it appeared.
I did not personally lose anybody that I knew in the disastrous plane crashes on the World Trade Center towers in New York, or on the Pentagon in Washington, D.C., on September 11, 2001. I have no personal connection with either city. I am a midwestern born and raised person, and frankly I have no great love for large cities.
And yet this wanton destruction, this attack on this land that I love, struck me with the same intensity as it did to many others in our country, even in the world, on that day. It was such a feeling of helplessness, of sadness, of horror for the victims (both in the jets that crashed, as well as for those in the buildings those jets struck) and for their families.
In the months following 9/11, one story written about the tragedy from the point of view of Jesus began to circulate the Internet. It first was played on radio station KFSH 95.9 FM in Los Angeles, California in November 2001, and continued to get airplay spreading throughout the nation both during and after the Christmas season that year. The words were written by Stacey Randall, it was read by Bob Holiday of KFSH, and it was recorded with Mannheim Steamroller's Silent Night playing in the background. Titled Met In The Stairwell, but also known as I Was There (9/11), I found it to be an intense look at that snapshot in time, and a reminder that most of us do not know whether or not today will be our last day on earth.
I've written posts in the past on this web site about the brevity of life, and the need to know now where you stand with Jesus Christ. In the 2 Corinthians 6:2 the Bible says, "Behold, now is the accepted hour, behold now is the day of salvation." I am not promised tomorrow. I am that Jesus will be with me in anything that comes my way today, even if that happens to be the end of my time here on earth.
If you do not know where you stand with God now, don't take this song and lyrics to be something only intended to draw a tear from your eye. Take it as a promise of the presence of Jesus in your life, knocking at your door, waiting permission to enter. And do not delay, thinking that you will have time "tomorrow". Take that step today.
You say you'll never forget where you were
when you heard the news on September 11th, 2001.

Neither will I.

I was on the 110th floor in a smoke filled room
with a man who called his wife to say goodbye.

I held his fingers steady as he dialed.

I gave him the peace to say,
"Honey, I am not going to make it,
but it's okay…I'm ready to go."

I was with his wife when he called
as she fed breakfast to their children.

I held her up as she tried to understand his words,
and as she realized he wasn't coming home that night.

I was in the stairwell of the 23rd floor
when a women cried out to Me for help.
"I've been knocking on the door of your heart for 50 years!"
I said, "Of course I will show you the way home –
only believe in Me now."

I was at the base of the building when the Priest
ministered to the injured and devastated souls.
I took him home to tend his flock in Heaven.
He heard my voice and answered.

I was on all four of those planes, in every seat, with every prayer.
I was with the crew as they were overtaken.
I was in the very hearts of the believers there,
comforting and assuring them that their faith has saved them.

I was in Texas, Kansas, London.
I was standing next to you when you heard the terrible news.
Did you sense Me?

I want you to know that I saw every face.
I knew every name – though not all know Me.

Some met Me for the first time on the 86th floor.

Some sought Me with their last breath.

Some couldn't hear Me calling to them through the smoke and flames,
"Come to Me…this way…take My hand."

Some chose, for the final time, to ignore Me.

But, I was there.

I did not place you in the tower that day.
You may not know why, but I do.
However, if you were there in that explosive moment in time,
would you have reached for Me?

September 11th, 2001 was not the end of the journey for you.
But someday your journey will end,
and I'll be there for you as well.
Seek Me now while I may be found.
Then, at any moment, you know you're "ready to go."

I will be in the stairwell of your final moments.

Remember…I love you.