Featured song: Friend Of A Wounded Heart, by Wayne Watson, from his 1987 album Watercolour Ponies.
The pain of aloneness can be unbearable. And anyone who feels truly alone knows the truth of the phrase, "alone in a crowd". It is more than being apart from people; it is being apart from people even when they are in the same room with you. That feeling of isolation, when you don't have the connection with others that you need.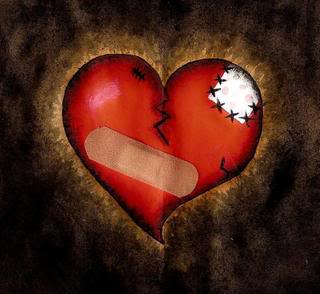 It doesn't matter how or why it happens. It might be your fault, it might be the fault of your friends, it may have no clear cause. But the reality is that you do not know how to fix things, and you do know that the loneliness is so hard to go through.
You try to put a good face on it. You put up walls to make it appear that you don't care, when inside you feel like you are dying. And the longer you live with it, the more hard your heart becomes, scar tissue that you try to build on to make it hurt less.
Sometimes you know of things you can or should do to fix it, but you feel unable. Sometimes you have tried and tried to fix things, but your efforts failed, or were rejected. And still you are alone.
The presence of a friend who cares for you is what you want, but even in the best of circumstances, this is not guaranteed. That friend is just as flawed as you yourself are, and the failure of a friend may be worse than the lack of a friend in the first place.
How can there be a solution to this problem? The place to start is by not depending on other people. Instead, you need to turn to that friend who truly will never leave you. In Hebrews 13:5b, we are promised by God, "Never will I leave you, never will I forsake you." This is a promise that you can be sure of. Jesus will always be there for you, even when every other friend has turned away.
Wayne Watson tells this so well in the song featured today. Listen to it, feel the words, hear the truth of what is said. Ask Him to reach into that wounded heart you carry within you, and touch it with His healing and His love. Ask to have your heart made new.
Smile
Make 'em think you're happy
Lie
And say that things are fine
And hide
That empty longing that you feel
Don't ever show it
Just keep your heart
Concealed

Why
Are the days so lonely?
I wonder where
Where can a heart go free?
And who will dry the tears that no one sees?
There must be someone
To share your silent dreams

Caught like a leaf in the wind
Looking for a friend
Where can you turn?
Whisper the words of a prayer
And you'll find Him there,
Arms open wide
Love in His eyes

Jesus!
He meets you where you are
Oh, Jesus!
He heals your secret scars
All the love you're longing for
Is Jesus
The friend of a wounded heart

Joy
Comes like the the morning
Hope
Deepens as you grow
And peace,
beyond the reaches of your soul,
Comes blowing through you,
For love has made you whole

Once like a leaf in the wind
Looking for a friend
Where could you turn?
Oh, you spoke the words of a prayer
And you found Him there
Arms open wide
Love in His eyes

Jesus!
He meets you where you are
Oh, Jesus!
He heals your secret scars
All the love you're longing for
Is Jesus
The friend of a wounded heart…

He meets you where you are
Oh, Jesus!
He heals your secret scars
All the love you're longing for
All the love that you need
Is Jesus
The friend of a wounded heart

Oh, the friend of a wounded heart
Oh, the friend of a wounded heart
Oh, the friend of a wounded heart
Oh, the friend of a wounded heart
| | |
| --- | --- |
| | |