Featured song: Touch Of The Master's Hand, by Wayne Watson from his 1980 album, Workin' In The Final Hour.
It must be hard to keep television new, fresh, and able to retain eyeballs. Even in this day, when the landscape has been shattered from three or four standard networks into a thousand pieces, multiple specialty channels that cater to each individual viewing preference, sometimes those specialty channels have to re-invent themselves to survive.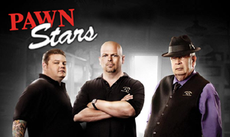 Take The History Channel (now called just "History") as an example. Although it started with programs that were more of a documentary nature, it has morphed into a combination of non-historical reality shows (Ice Road Truckers, for example), and it's most populars programs, those dealing with antiques. Although the format was preceded by the PBS series, Antiques Roadshow,  History's Pawn Stars, which started in 2009, features the various unusual items that are brought into a Las Vegas pawn shop, often discussing the background and value of the merchandise. It is amazing how much people expect to get for the items they bring in, and sometimes it is amazing to see what is actually paid for the items that the pawn shop does purchase.

A parallel program that History began to run in 2010, American Pickers, chronicles the experiences of two midwestern (Iowa!!) antique dealers who travel across the United States looking for "rusty gold" stored away in old warehouses, garages, and outbuildings. These "pickers" know from experience what types of items are likely to be valuable to collectors, and what it will be possible to re-sell for a profit.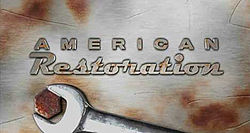 The latest offering from History in this fascination of antiques is American Restoration, which began to air in 2011. Featured originally on the Pawn Stars show as a resource for fixing up and restoring items purchased by the Las Vegas pawn shop, this spin-off show goes into some detail as to how they take an old item and restore it to look like it is new.
History went further with one special in which they combined the three shows, calling it "The Pick, The Pawn, & The Polish". Rick, of Pawn Stars contacts Mike and Frank of American Pickers to find a specific old car he wanted to give to his father. With some difficulty, they locate one, bring it to Las Vegas, dicker a price with Rick, who then turns it over to Rick's Restorations (the American Restorations tie-in), who does the full restoration to bring it back to like-new goodness.
The fascination with these shows lies, I am sure, in seeing all of the old stuff that people have in storage. It also brings to mind the thought that there just might be something really valuable up in the attic. It's part of the appeal that antique stores have had for many years, and online stores like eBay have been able to use to create an online powerhouse.
So what is the "Joy" connection?  Wayne Watson's song featured here today is about an auction with a "rusty gold" violin that nobody wants to buy, until an expert with a trained eye takes it and shows the audience that it truly is valuable, despite its appearance. I am getting more battered and old myself as time passes, and I could end up in a heap of other old battered people, looking valueless. But Jesus knows about the "rusty gold" in all of us. He can come, see the value that I have, wipe the sin and grime off of me, and show me off as the beautiful person that He gave His life to redeem. And it does not happen because of anything that I can do. Just like the violin could not clean itself off, tune itself off, or even play itself, it is totally the work of the Master to show off what each of us can be and do.
Although the audio is not as good as I would like (I cannot find a new copy of the original Wayne Watson song to use), this old antique song was dusted off from its "download" from the radio, way back in 1982.
Well, it was battered and scarred
And the auctioneer felt it was hardly worth his while
To waste much time on the old violin
But he held it up with a smile

"It sure ain't much, but it's all we got left
I guess we ought to sell it too.
Now who'll start the bid on this old violin?
Just one more and we'll be through."

And then he cried, "One, give me one dollar
Who'll make it two?
Only two dollars? Who'll make it three?
Three dollars twice, well that's a good price.
But who's got a bid for me?

Raise up your hand and don't wait any longer
The auction's about to end
Who's got four, just one dollar more?
So bid on this old violin."

Well the air was hot, and the people stood around
As the sun was settin' low
From the back of the crowd
A grey-haired man came forward, picked up the bow

He wiped the dust from the old violin
And he tightened up the strings
Then he played out a melody pure and sweet,
As sweet as the angel sings.

And then the music stopped.

And the auctioneer
With a voice that was quiet and low
He said, "What is my bid for this old violin?"
Then he held it up with the bow

Then he cried out, "One, give me one thousand
Who'll make it two?
Only two thousand? who'll make it three?
Three thousand twice, well that's a good price.
But who's got a bid for me?"

The people called out, "What made the change?
We don't understand!"
Then the auctioneer stopped,
And he said with a smile,
"It was the touch of the Master's hand!"

Now you know, many a man with life out of tune
Is battered and scarred with sin
And he's auctioned cheap to a thankless world
Much like the old violin

Then the Master comes, and the foolish crowd
They never understand
The worth of a soul when then change is wrought
Just by the touch
Of the Master's hand

Again, he cried out, "One, give me one thousand
Who'll make it two?
Only two thousand? who'll make it three?
Three thousand twice, well that's a good price.
But who's got a bid for me?"

The people called out, "What made the change?
We don't understand!"
Then the auctioneer stopped
And he said with a smile,
"It was the touch of the Master's hand!"

It was the touch of the Master's hand
It was the touch
Of the Master's hand
| | |
| --- | --- |
| | Go here for the artist's web site |