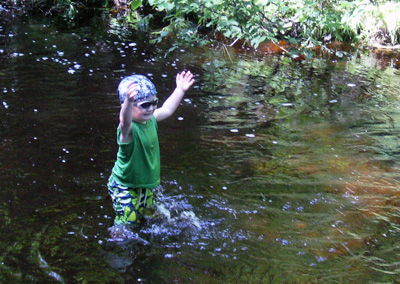 I discussed the disasters that affect a person's life in the last post. And I'd love to give you now the "solution" that would just "fix" everything. What I have is more on the line of what I often have to offer patients in the office. Sometimes it's strep throat, and the penicillin that I can give you will actually cure this infection and make it go away. Most of the time, however, I have a treatment that is effective in helping bring things somewhat back to normal. The medication for the high blood pressure, for the abnormal cholesterol, and so on.
So, in a spiritual sense, I can offer a treatment for dealing with the disasters of life. It is a scriptural solution, and I offer it with the same conviction that I do with the treatments I offer patients each day in the office.
I don't have sufficient space here to really go into why praise is important, just as I may not be able to explain to you why a blood pressure medication works. Let me just give a couple of verses to support my point, and then a reference to where you can read more.
2 Samuel 22:4 reads, "I call to the LORD, who is worthy of praise, and I am saved from my enemies." This refers to the efficacy of calling out for help to the God who is worthy. He is my help and my salvation, regardless of what I am facing at this time.
In the translation I read back in college, Psalm 34:1 read, "I will bless the LORD at all times; his praise shall continuously be in my mouth." This deals with the frequency of dosing of this treatment ("continuously").
And what is the result of applying this treatment? It is entirely possible that God can change your circumstances to resolve your situation (he is, afterwards, a God of miracles). But more commonly, the outcome of choosing to spend myself in praise to God is that he will change me, and make me more able to handle the situation I am facing.
The link you should really follow to read more about this (check it out after you've listened to the song) is here. A very good article that goes into much better detail than I can do here.
And of course, this blog is about the music. A song that makes my point is Praise The Lord, performed by The Imperials from their 1979 album, Heed The Call. Listen to it, and see what God changes in your life.

When you're up against a struggle
That shatters all your dreams
And your hopes have been cruelly crushed
By satan's manifested scheme 

And you feel the urge within you
To submit to earthly fears
Don't let the faith you're standing in
Seem to disappear

Praise the Lord!
He can work through those who praise Him
Praise the Lord!
For our God inhabits praise

Praise the Lord
For the chains that seem to bind you
Serve only to remind you
That they drop powerless behind you
When you praise Him

Now satan is a liar
And he wants to make us think
That we are paupers
When he knows himself
We're children of the King

So lift up the mighty shield of faith
For the battle must be won
We know that Jesus Christ is risen
So the work's already done

Praise the Lord!
He can work through those who praise Him
Praise the Lord!
For our God inhabits praise

Praise the Lord
For the chains that seem to bind you
Serve only to remind you
That they drop powerless behind you
When you praise Him

When you praise Him
When you praise the Lord
| | |
| --- | --- |
| | |
Tags: healing, Praise, The Imperials