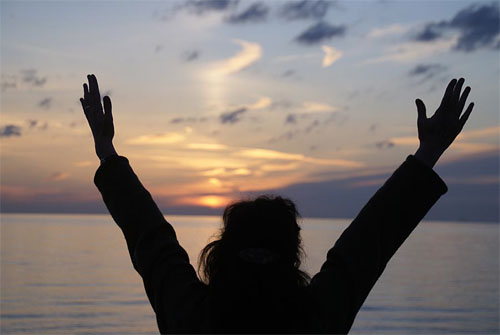 I pointed out just a little of the concept of praise in my last post. I mentioned its "therapeutic" benefits. That is, I described the ways in which praise is helpful to your spirit, how it can unlock the power of God in your life to change your circumstances – or change you in the midst of your circumstances. And this is definitely true about praise. What is also true about praise is that it is also similar to exercise to your physical body. The more you do it, the more you want to do it, and the greater is its effect on you.
If you were to join a gym and start a program of physical fitness, aerobics and weight training and the like, you would find that the first time or two that you did it, you would feel your muscles complaining about this unaccustomed work you've forced them to go through. But as time goes by, the exercise becomes more easy, and many people find that they actually look forward to going in for their workout sessions. And the end result is that you build up strength and endurance, and your physical health improves.
When you make the decision to praise God, and to start making it a part of your life, the same kinds of changes can happen to your spiritual "body". It gets easier, and you can feel a connection to the presence of God that you might have never felt. My rational mind would say, "This is ridiculous! You've got to get up and do something about this — 'praising' God is not going to make any difference!!" I might say the same thing about putting a pill in my mouth and swallowing it; how in the world is doing this twice a day going to have any effect on making this pneumonia go away, or my blood pressure go down, or whatever it is for which I am taking the pill? But if I choose to ignore these doubts and just obey the instructions I was given, I will most likely find that the medicine actually does have the effect I was told it would, and it increases my faith in the future that I can trust the potency of this treatment.
In Hebrews 13:15 we are told to continually (there's that word again) offer to God a sacrifice of praise. Music is an effective and powerful means of bypassing the efforts of my mind that might try to block my entry into praise. Also, depending on what kind of effect music has on you, it can be a means of helping me to get into that "continually" state of mind. If you are the kind of person that finds it easy to get a song running through your head, then the kind of music to have running through it is the kind that focuses on praise.
So, when I heard this praise song that was familiar to me start running through my mind before I woke this morning, I realized that this needed to be a praise day, and so I wanted to share it with others.
Beautiful One, performed by By The Tree, is from their 2004 album Hold You High. It is one that we often sing in my church.
And by the way, did I tell you that it's not played on an organ? 🙂

Wonderful, so wonderful
Is Your unfailing love
Your cross has spoken mercy over me
No eye has seen, no ear has heard
No heart can fully know
How glorious, how beautiful You are

Beautiful One I love
Beautiful One I adore
Beautiful One my soul must sing

Powerful, so powerful
Your glory fills the skies
Your mighty works displayed for all to see
The beauty of your majesty awakes my heart to sing
How marvelous, how wonderful You are

Beautiful One I love
Beautiful One I adore
Beautiful One my soul must sing

(repeat)

You opened my eyes to your wonders anew
You captured my heart with this love
'Cause nothing on earth is as beautiful as You!

And You opened my eyes to your wonders anew
You captured my heart with this love
'Cause nothing on earth is as beautiful as You!

Beautiful One I love
Beautiful One I adore
Beautiful One my soul must sing

(repeat x 2)