Featured song: Woman, Man That I Love, from Paul Clark's 1977 album Hand To The Plow.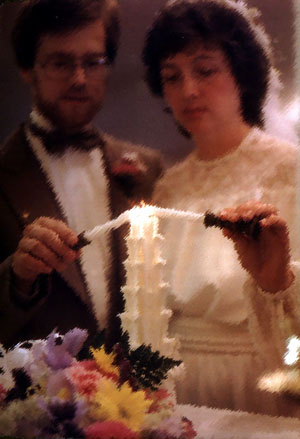 Twenty-three years ago today, I stepped out on a journey that I have never regretted. It has become stronger and more sweet with time. I am not referring to my journey with Jesus, but rather the life I have lived with my wife, Kim.
On that wedding day, we had written our vows, arranged our ceremony, and planned for music to be sung. Our friends, Jim and Diana Moeller agreed to sing for us two songs that I had liked for a long time. After Kim heard them, she also liked them, and asked for a tape of them to listen to, so she would know them better. The special gift that she gave to me that day was that as we listened to this song being sung, as we faced each other up in front of our family and friends, she softly sang the words of the woman's part — to me! How memorable that was for me, something that I continue to treasure.
Happy 23rd anniversary, Kim! You have made this life worthwhile!
Enjoy, then, one of the most performed songs for weddings during the era of early Jesus music! [Note: for the album, Paul Clark had the help of Kelly Willard singing the second part.]

[man]
Woman, your worth is far above all precious jewels
My heart trusts in you
I know you'll do me good,
All the days of my life

Woman, your hands, they seem to work with delight
You're like a merchant ship
Gathering goods from afar
For your home

You rise before the sun
To serve everyone
Day after day, your hands seldom rest
You never eat the bread of idleness

Woman, you are a gift to me
Grace and beauty are yours
Woman, you're like a silent night
Gentle and quiet in heart

Woman, you are a gift to me
Grace and beauty are yours
Woman, you're like a silent night
Gentle and quiet in heart

And I love you
Please love me
Let us live together
In Him

[woman]
In my heart there's a feeling
That I know has come from above
He gave me you for my covering
It's true that you are the man that I love

Since the day that He spoke to me
And showed me you were the one
We've been through so many changes
But still you are the man that I love

What a joy to be living
Sharing our lives together
If we continue in giving
We'll share a little of heaven
Right here on the earth

What a joy to be living
Sharing our lives together
If we continue in giving
We'll share a little of heaven
Right here on the earth

Woman, I love you!
You're the man that I love!
Let us live together in Him
This album is available at the artist's
web site