Featured song – Madness Dancing, by Bob Bennett, from his 1982 album Matters Of The Heart.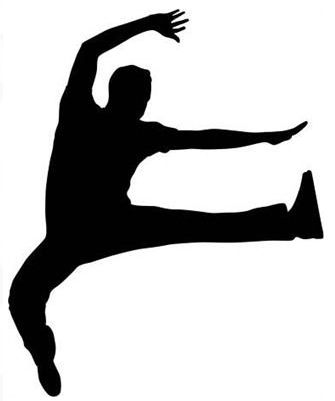 The thing I like about this song is that it shows the example of a person who has the attitude that despite how crazy the world is, he is going to take time to spend with God in prayer. Not only that, but his trust that God is handling the world for him is so great, he dances in this quiet place, dances for God alone.
The theme of this site is "Great Great Joy", and this is the essence of joy – the connection with God that makes His joy hit you "like a crashing tide", makes you want to dance. This is especially difficult for me, as dancing is not my strong point. But I want to have that freedom that lets me move my feet and be able myself to dance before God. It's scriptural; look at all the songs in Psalms, the Bible's song book, that deal with dancing.
As I listened to it, I was reminded of a story I read some years ago, written by a pastor who was imprisoned for his faith in one of the former Communist countries of eastern Europe, back in the 1950s. At one point in his imprisonment, he was put in solitary confinement for over a year. And during that time of suffering and isolation, he found his faith strangely growing and intensifying. At one point during that year, he actually danced to the Lord in his small, dark cell. It must have seemed strange to the guards who checked on him; in fact, it led them to increase slightly his food allocation for a short time, as they thought something was seriously wrong with him!
Dancing is not the point or focus of this, obviously. The point is making that intimate connection with God.
In the middle of this madness
I am dancing
Though I'm not sure why just now
I tried to be sober
I tried to be logical
But I could not stop my feet

I know I have not turned off my mind
I know there's evil all around
But for now it's outside
And I am in my room
And joy is like a crashing tide

I don't wanna burn no books
Don't wanna to argue rock 'n roll
I don't want to shoot anyone
With my high-powered doctrine gun
Let the madness roll on
Like a hungry beast
Cause no one will miss me
(No one will miss me)
For a half an hour at least

A song came this morning and woke me
And as I listened, then I found
That I was not alone
I was standing, moving,
Dancing, dancing
On holy ground

I don't wanna burn no books
Don't wanna to argue rock 'n roll
I don't want to shoot anyone
With my high-powered doctrine gun
Let the madness roll on like a savage beast
Cause no one will miss me
No one will miss me
No one will miss me
For a half an hour at least

No one will miss me
No one will care
No one …

In the middle
In the middle of this madness
In the middle of this madness I am
I am dancing
In the middle of this madness I am dancing