Today's featured song: Love's Not A Feeling, by Steve Camp, from his 1983 album, Fire And Ice.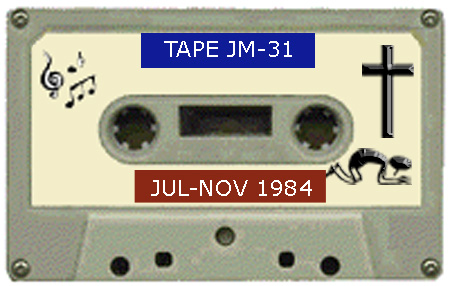 Our travels through the audio of Jesus music that I recorded off the radio in 1984 continues with today's song. It is preceded by a station identification and a summertime music promotion from WHME-FM in South Bend, Indiana. For the years that I had recorded music off the radio, part of my enjoyment of it was not just having the song, but also the station jingles, the comments of the DJs, and so on. For that reason, this tape also gives a snapshot of what WHME sounded like back in 1984. Track 5 from this tape shows the WHME hourly ID, which started with a scripture version, in this case Psalm 118:24, and then the station name, and their slogan that year, "We're reaching out!".
Track 6 on Tape JM-31 was Praise The Lord by The Imperials. Since I already featured that song on a blog post back in 2008 (see Recovery), I've skipped it here.
The next track on the tape was a WHME summer promotion, featuring popular artists and their songs from that year. And then we come to today's song by Steve Camp, sung as a duet with Michelle Pillar.
Love and feelings are compared in the song, pointing out that loving is not dependent on how I feel about a person, but that it is primarily a decision. The feelings may not always be there, but love, like the agape love of God, is there whether or not the recipient of the love is deserving of it. It's what God shows to us; may He help us know how to show it to each other!
Take a look around
So many broken hearts on the ground
No one was there
To take the time to really care
Well, a commitment's what love should be
But we wash our hands of it so easily
We give up so fast
And then wonder why love doesn't last

Love's not a feeling, oh, we've got to learn
To get past our emotions to the meaning of the word
Love's not a feeling we can lose or throw away
Lord, give us the courage to live it every day, oh…

There's a love that Jesus showed
And our desperate hearts need it so
His love is alive
It never ends, it never dies
God won't walk out on us
When the pressure's on and times are tough
Just trust in His power
He'll see you through your darkest hour

Love's not a feeling, oh, we've got to learn
To get past our emotions to the meaning of the word
Love's not a feeling we can lose or throw away
Lord, give us the courage to live it every day

'Cause love's not a feeling, oh, we've got to learn
To get past our emotions to the meaning of the word
Love's not a feeling we can lose or throw away
Lord, give us the courage to live it every day

Love's not a feeling, oh, we've got to learn
To get past our emotions to the meaning of the word
Love's not a feeling we can lose or throw away
Lord, give us the courage to live it every day, oh…

Love, oh, love, love's not a feeling
No, no, no, no
Love, oh, love, love's not a feeling
Ooh…
Love, oh, love, love's not a feeling