Like many efforts in the blogosphere, this collection of Jesus music songs from the early years of Contemporary Christian Music started fast and furious, and with time it faded, as the busy-ness of life and other projects pushed it to a lower priority. The last time I made a post here was over two years ago, in May 2012.
Now that some other things have settled down, I would like to get back to this work of reminding myself (and the rest of the world) of the significant songs that were produced to share stories, faith, encouragement, and so much more. What I've decided to do is to go back to my own collection of music that I recorded off the radio onto cassettes. I have previous posted a number of these on this web site for free download by others. The particular cassette I've decided to use is JM-31, from July through November 1984, thirty long (but not so long) years ago.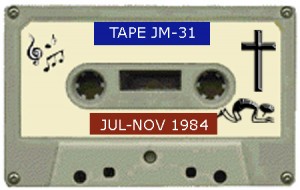 The music on this cassette is a snapshot of some of what was being played on CCM radio back in 1984, and so represents those songs that were current, and some that were also past hits (from the point of view of 1984) . The contents include music taken from several radio stations, including WHME in South Bend, Indiana, and KCRO in Omaha, Nebraska. Since these tapes also have some of the jingles played on those stations, I will play those in their place.
This tape holds 39 tracks, 7 of which are jingles. The artists include Dion DiMucci, Steve Camp, The Imperials, Twila Paris, Silverwind, Leon Patillo, Chris Christian, Chuck Girard, and more. I love them all, and likely some of you do as well.
On this blog, I have also typically played reduced-quality versions of the songs I've featured. In most of the cases when I play a song here, I'll just take it right off of the cassette, and reduce it less (it's from a cassette, so it's quality is already reduced). The only exception may be if I have a really bad version of a song, I may try to find a better version to play in its place.
So, starting in the next couple of days, enjoy the sounds of 1984 and what was playing in Jesus music in that year!